CHAPEL HILL – As COVID-19 began to spread around the globe, companies and entrepreneurs stepped up to develop new technologies and redeploy existing technologies in their portfolio to tackle the disease and cope with the constraints it brought. The pandemic forced telemedicine into the mainstream and brought mRNA vaccine technology to the forefront. At the same time, new technologies such as CRISPR gene editing and artificial intelligence (AI) approaches have been finding their niche for speeding up drug discovery and development.
Healthcare innovation was already on the fast train before the pandemic. Now, it's been turbocharged. In this Kenan Insight, we explore why the 2021 Trends in Entrepreneurship Report names emerging technology in the healthcare industry as a key trend for entrepreneurship, along with some of the challenges that come with fast-moving technology advances.
A trajectory of explosive growth
The healthcare industry has experienced extraordinary growth over the past four decades. Big pharma is driving much of this boom, accounting for 10% of the U.S. economy's overall R&D spending at the end of 2020.1 The medical device industry, expected to generate $54.5 billion over the next four years, is another important player.2 This growth is catching the attention of investors. In 2020, health tech startups raised approximately $14 billion in venture capital funding, nearly double that of 2019.3 CB Insights estimates there are now 51 healthcare unicorns, defined as startups valued at $1 billion or more.
Health-tech venture funding reached record levels in 2020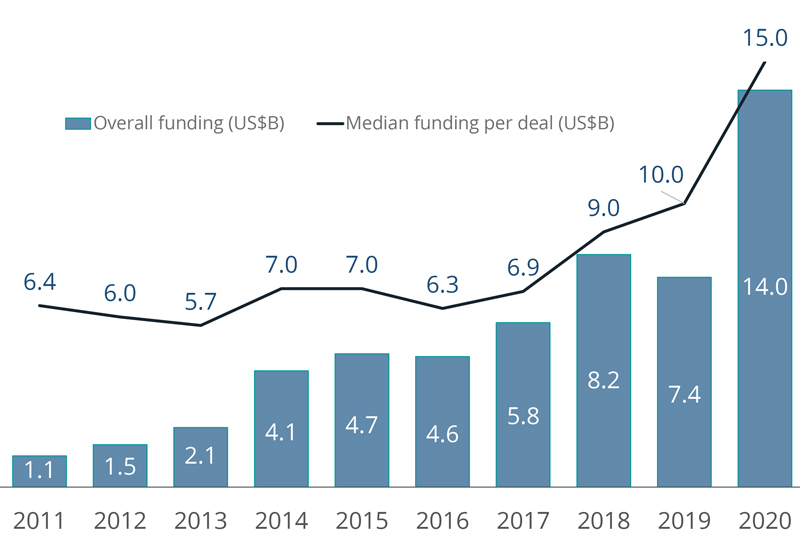 Source: Deloitte analysis of Rock Health's Digital Health Funding Database
Innovation is a critical driver in the healthcare sector. Increasing rates of innovation can be seen in the sharp rise of U.S. patents granted for pharmaceuticals and medical devices in recent years. Between 2013 and 2019, more than 60,000 pharmaceutical patents and more than 125,000 medical device patents were granted.4 Today, there are more than 18,500 drugs at various stages of the development process worldwide.5
Maturing technologies
The increasing numbers of patent applications, clinical trials and collaborations are leading indicators of a vibrant and growing biopharmaceutical ecosystem. However, the proliferation of innovation tools, rather than just innovative products, is what will allow the next generation of pharmaceutical drugs to be discovered more quickly and more efficiently, to provide more effective treatments and to target diseases that have so far evaded our collective intervention efforts. As scientists learn more about human genes and their connection to diseases, these insights can feed into tools that make drug R&D faster, less expensive and more precise.
AI technology has matured to the point where it can now be used reliably to analyze huge amounts of data and solve extremely complex problems. This has made AI attractive to the pharmaceutical industry as a tool that can enable more efficient identification of new drugs and drug targets. In 2020, drug discovery was the focus area that received the most private AI investment, with more than $13.8 billion invested globally. This was 4.5 times higher than the total for 2019.6
CRISPR gene editing is another hot technology that is enabling the development of more innovative and accurate therapeutic strategies. This tool is making it easier to determine the genes and proteins that cause or prevent disease and thus to identify new targets for potential drugs. As of the second quarter of 2020, there were 724 active companies around the world focused on using or developing CRISPR technology and almost 50 clinical trials involving CRISPR.7
mRNA was certainly one of the brightest technology stars of 2020. After decades of research, mRNA proved to be the ideal solution for developing a highly effective COVID-19 vaccine at record speed. However, this is likely only the beginning of the story for mRNA. Therapies based on mRNA technology are being developed to treat malaria, cancer and multiple sclerosis and we'll likely see more mRNA-based vaccines designed to fight a host of current and future infectious diseases. As of February 2021, CB Insights reports more than 520 ongoing clinical trials worldwide that were applying mRNA technology to more than 20 disease classes.8
Connectivity is the future
For medical devices, the number of regulatory approvals for product refinements has been decreasing while approvals for completely new devices are growing. Much of the innovation in this sector is propelled by digitization and connectivity. For example, wearable devices that provide real-time tracking of various aspects of health, such as sleep and physical activity, have seen a surge of investment. According to Grand View Research, the global wearable medical devices market reached $16.6 billion in 2020, with an expected compound annual growth rate of 26.8% between 2021 and 2028.9
The medical devices sector is increasingly focused on racial, ethnic and gender diversity because understanding demographic differences is important to achieving better health outcomes. Ensuring diversity within R&D groups can help ensure that innovations are addressing the healthcare issues of underrepresented groups. Women inventors, for example, are in a unique position to recognize the opportunity and need for better diagnosis and treatment of female diseases and health conditions. According to a new report by Grand View Research, the global market for technology focused on women's health is expected to reach $48 billion by 2027.10
The rise of telemedicine
During the COVID-19 pandemic, healthcare providers quickly ramped up their capabilities to support videoconferencing, telecommuting and remote interactivity. The quick pivot from in-person patient visits to remote interactions led to a record amount of private funding for telehealth startups in 2020. Although these technologies have, and will continue to, foster contactless and remote healthcare, they also come with some risks. With more health data being gathered and transmitted outside of traditional healthcare system networks comes more opportunities for data breaches. In the U.S., the fourth quarter of 2020 saw 154 healthcare data breaches affecting 500 people or more, compared to just 30 such breaches in the first quarter of 2019.11
Blockchain technology is being considered as a potential solution to cybersecurity issues.12 Blockchains store data in blocks that are then chained together and can be used to create an interoperable infrastructure to manage health records while maintaining patient data ownership without compromising privacy. Several nations in Europe, the Middle East and Asia are evaluating ways to integrate blockchains into healthcare.13,14
As we begin to look ahead to what life will be like after COVID-19, it's very likely that it will never be quite like it was before the pandemic. But it's clear that the healthcare innovations that were pushed ahead at a record pace during the crisis will help improve lives around the world for years to come.
The 2021 Trends in Entrepreneurship Report, including insights on emerging technology in the healthcare industry, is available for download.
---
1 Benmelech, E., Eberly, J. C., Krieger, J. L., & Papanikolaou, D. (2021). Private and Social Returns to R&D: Drug Development and Demographics. National Bureau of Economic Research. doi:10.3386/w28355
2 Curran, J. (2020, August). Medical Device Manufacturing in the US. IBISWorld.
3 Micca, P., Gisby, S., Chang, C., & Shukla, M. (2021, February 26). Trends in Health Tech Investments: Funding the Future of Health. Deloitte Insights.
4 United States Patent and Trademark Office. (2020). PatentsView. [Data set]. Retrieved from https://www.uspto.gov/ip-policy/economic-research/patentsview
5 Lloyd, I. (2021). Pharma R&D Annual Review 2021. Pharma Intelligence.
6 AI Index [@indexingAI]. (2021, March 3). 1/9 AI investment in drug design and discovery increased significantly: "Drugs, Cancer, Molecular, Drug Discovery" received the greatest amount of private AI investment in 2020, with more than USD 13.8 billion, 4.5 times higher than 2019. [Tweet]. Twitter. https://twitter.com/indexingai/status/1367166356567691265?s=20
7 Zyontz, S., & Pomeroy-Carter, C. (2021). Mapping of the research, innovation and diffusion activity of CRISPR across countries.
8 CB Insights. (2021, February). What Are mRNA Therapies, And How Are They Used For Vaccines. CB Insights.
9 Grand View Research. (2021, January). Wearable Medical Devices Market Size, Share & Trends Analysis Report By Type (Diagnostic, Therapeutic), By Site (Handheld, Headband, Strap, Shoe Sensors), By Application, By Region, And Segment Forecasts, 2021 – 2028. Grand View Research.
10 Grand View Research. (2020, February). Women's Health Market Size, Share & Trends Analysis Report By Application (Postmenopausal Osteoporosis, Infertility, Endometriosis, Contraceptives, Menopause, PCOS), By Region, And Segment Forecasts, 2020 – 2027. Grand View Research.
11 CB Insights. (2021, February). State Of Healthcare Report: Sector & Investment Trends To Watch. CB Insights.
12 Vazirani, A. A., O'Donoghue, O., Brindley, D., & Meinert, E. (2020). Blockchain vehicles for efficient medical record management. Npj Digital Medicine, 3(1). doi:10.1038/s41746-019-0211-0
13 E-Estonia. (n.d.) Security and Safety: KSI Blockchain. E-Estonia.
14 See Kit, T. (2021, February 26). Singapore develops new standard for cross-border verification of COVID-19 test results. Channel News Asia.
(C) Kenan Institute of Private Enterprise
This post was originally published at this site and is reprinted with permission.